One of the most used rooms and the dirtiest in the house is the bathroom. It's also one of the hardest to keep tidy and clean.
Getting rid of soap scums on the bathtub, cleaning the showerhead, scrubbing the toilet, sink, and the floor.
Here's how to clean deep clean your bathroom.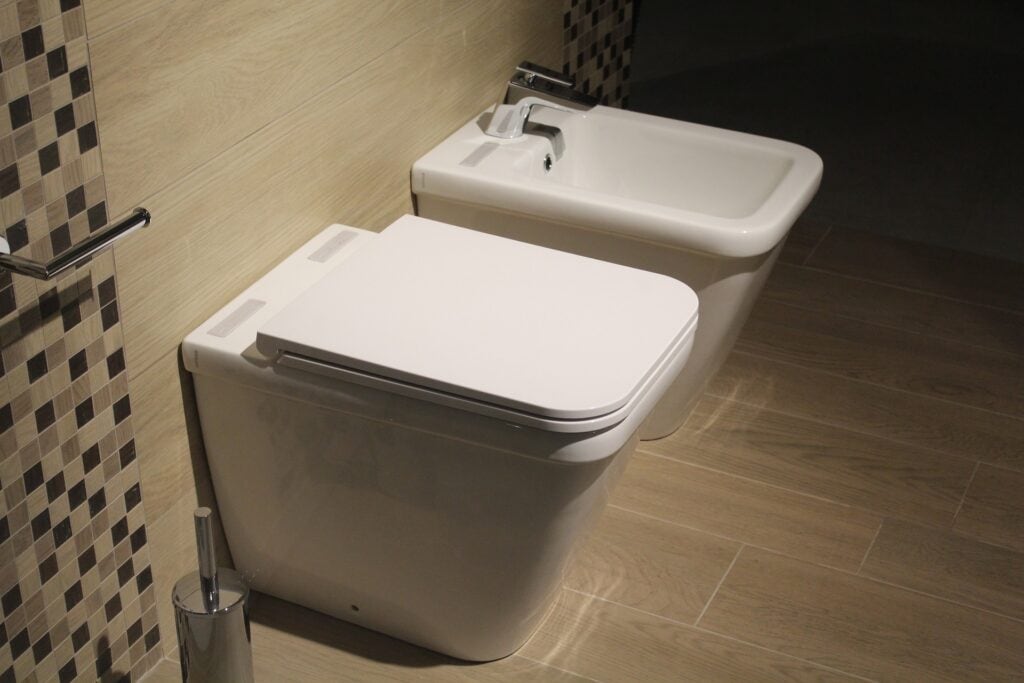 Toilet 
Pour some toilet cleaner into the bowl and let it soak for few minutes. Use a brush and quickly swish cleaner around the bowl.
Spray the outer walls of the toilet with disinfectant.
Use a scrub sponge to clean the outer surface of the toilet.
Use a toilet brush to brush the bowl especially the water ring.
Don't forget to clean the water tank by pouring a cup of vinegar and let it soak for at least an hour. Run the water to rinse.
Wipe down the toilet seat with disinfectant.
Don't forget to wear your rubber gloves.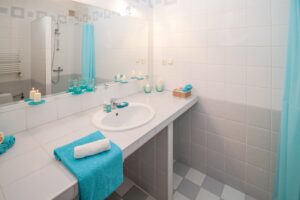 Sink
Scrub the bathroom sink with a bathroom cleaner. Try to get as much hair, dirt, and grime as possible.
Rinse the sink. Turn on the faucet and run hot water into the sink for few minutes. Hot water will slacken off dirt, grime, and soap scum.
If the bathroom sink is still dirty, sprinkle baking soda all over the sink. Cover as much surface as possible to remove hard and tough stains.
Again, rinse the sink thoroughly.
Generously spray disinfectant all over the bathroom sink and wipe with a sponge or cloth.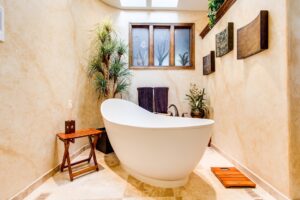 Bathtub
Open windows, door, and open bathroom fan for fewer fumes and to bring in fresh air while cleaning the bathroom.
Run hot water into the tub.
Generously spray the tub and shower with a bath cleaner.
Scrub the tub.
Rinse thoroughly.
For an extra dirty and stained tub, liberally sprinkle baking soda directly onto the tub or the sponge and scrub thoroughly.
Again, rinse completely.
Finally, wipe the tub faucet, the handles, drain with a clean sponge or dry cloth.
If mold or mildew is present, spray bleach all over the tub and let it soak for few minutes then rinse.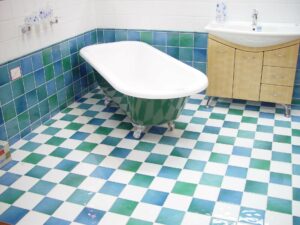 Bathroom Floor
Sweep the floor.
Spray the floor with a bathroom cleaner.
Meticulously scrub the floor.
Fill the bucket half full of hot water. Add ¼ cup of vinegar and 1 tablespoon of dish soap and mix.
Dip the mop into the mixture, wring excess water, and mop the floor.
Rinse the mop every after use.
Dry the floor with a dry towel or dry mop.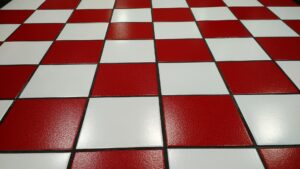 Tile Grout
Wear rubber gloves when cleaning/scrubbing tile grout.
Spray the tiles with an equal part of hot water and vinegar.
Let it soak for five to ten minutes.
For grimy and tougher grout stains, sparingly spray bleach grout cleaner onto the grout.
Let it sit for about 10 to fifteen minutes.
Scrub the grout.
Rinse thoroughly.
Wipe and dry the tiles.