A clean house is a happy house. But as any homeowner knows, we don't always treat all areas of our homes with the same level of care. Your kitchen countertops may receive a daily wipe down, but you're probably cleaning your baseboards on a slightly less than regular basis. The result? Dirty baseboards that undermine the quality of your home.
The good news is that this isn't something that you need to just accept. Far from it! Clean baseboards are very much within reach once you know how. Armed with a microfiber cloth and dryer sheet, you can have clean baseboards in no time at all. 
And if you make this part of your regular cleaning routine, you'll ensure that your baseboards are cleaner than ever before.
Ready to learn how to clean baseboards? Let's take a look. 
Clean The Surrounding Areas First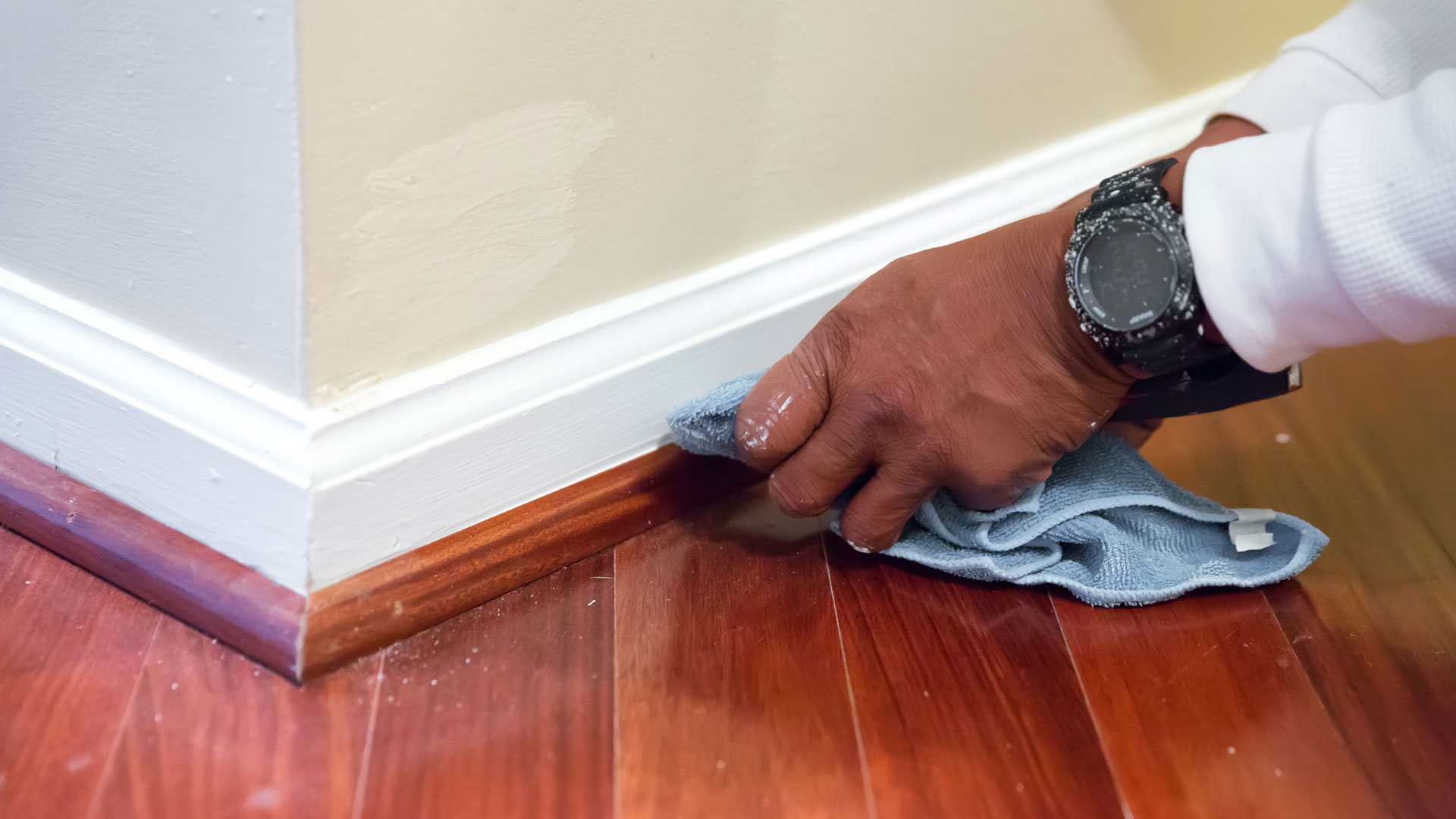 Cleaning baseboards as part of your broader cleaning routine? Then be sure to clean the surrounding areas first before cleaning baseboards. If you don't, then you may find that you have to clean them again later on. 
That's because the dust and loose dirt you clean from other parts of the room may very well find themselves attached to your baseboards. And that won't result in clean baseboards!
Use Your Tools
If you've got a vacuum, then use it! A vacuum is a go-to tool for a deep cleaning because it can reach those hard-to-reach areas. The vacuum attachment will come in especially handy, most notably the brush attachment. If you don't have a bristle attachment, then you can do most of the work to get clean baseboards with the vacuum, then use an old toothbrush to deep clean the baseboard. 
You should always keep your old toothbrushes for cleaning with hot water. They're so valuable on this front that they really should be marketed as an overall cleaning product, not just for teeth. 
Wet and Wipe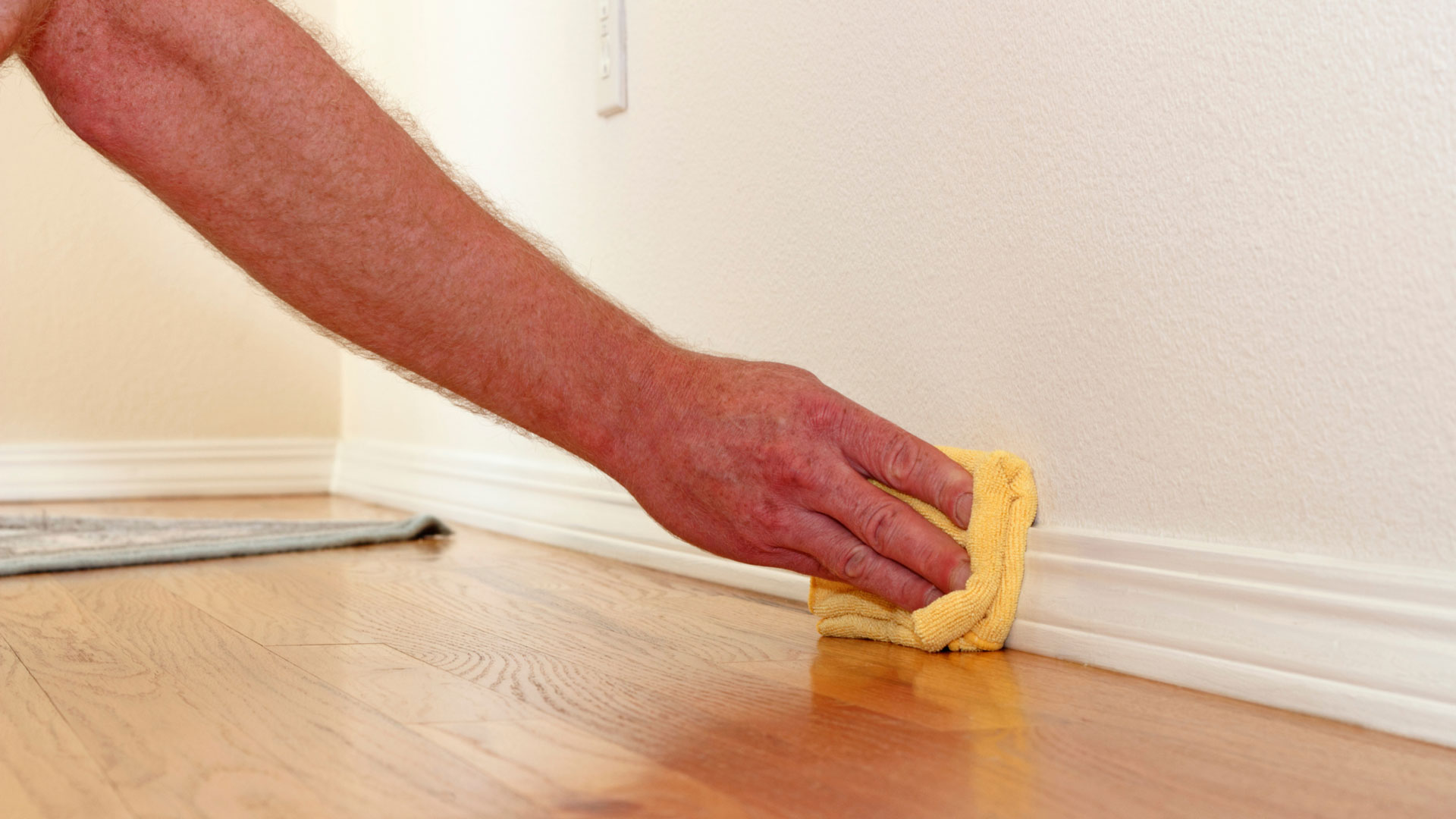 Is there anything that a spray bottle of soapy water can't do? Well, maybe, but when it comes to a go-t0 cleaning solution, we don't think that there's much better than dish soap and a wipe or sponge. If you can grab some soapy water and a wipe, you can say goodbye to dirty baseboards. You don't need to overthink this. Dish soap will do the job just fine, as will a magic eraser wipe or basic sponge.  A microfiber cloth is also recommended.
What's a magic eraser wipe, we hear you ask? It's one of those wipes that your teacher used to wipe their calculations off the board at school. They're available everywhere so you should have no trouble finding them. 
Specialized Products
Baseboards can get pretty dirty, especially in the corners. Indeed, if furniture has been sitting there, then the corners might look a little worse for wear. To get the wood back to looking its best, you might need to draw upon some specialized products. There are many soapy cleaners that you buy that'll do a great job, but there are some household items you can use, too. 
For instance, you could use vinegar, which really should be thought of as an all-purpose cleaning. For this, you make a cleaning solution of two tablespoons of white vinegar mixed with half a gallon of warm water. This will help to clean many areas of your home, including your baseboards. Simply spray it onto the board and then wipe it with a microfiber cloth. You should see that stains are wiped clean! 
Keeping the Baseboards Clean
You've put away your bucket, brush, and vinegar, and your baseboard is looking wonderfully clean. Now, how can you ensure that the paint stays sparkling without having to clean or paint every few months? 
There's one simple solution: once the area is dry from the dish soap and warm water, run a dryer sheet over the wood. They help repel dirt and dust and ensure that any hair that falls onto the wood just falls away. 
It sounds like magic, and to be honest, it's so effective that we can't reasonably say that it's not magic. 
Hire a Professional

If you find that cleaning your baseboards is too difficult, either because you lack the mobility to bend down or you simply don't have the time, then fear not because there is another method for getting clean baseboards. You can hire a professional cleaner to do the job for you. 
Here at Go 2 Girls, we have extensive experience in turning dirty baseboards into clean baseboards. Use our service on a regular basis, and you'll have confidence that grime and dirty edges will be a thing of the past.
Our method is simple: armed with a microfiber cloth, cleaning solution, and extensive knowledge, we know how to deep clean and get baseboards sparkling. Are we the best way to clean baseboards? We think so!