As parents, we know that it is so important for a family to have a place to call their own. With a house being a safe haven for kids, it is important for parents to remember to clean up as always to make it safer to live in. Here are our top four cleaning tips to note for a better and safer house with kids.
Emphasize Open Spaces
Kids love to play around, and that means we can assume that their playfulness means a larger space needed for them to chase around and tease along. Hence, a wider space is an essential cleaning tip for parents to consider. To do this, always create a public space where kids can enjoy walking around, aside from their proper play-corner. With kids being more active these days, it's better to have wider spaces that kids can play around during free time as well.
Some of the actions that can be done include re-arranging furniture so that a common space is established, as well as opting out for lesser accessories in the house to save space.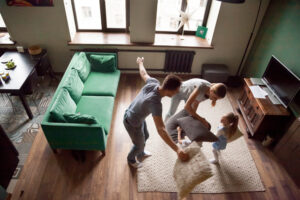 Maximize Common Areas
Once you have made that space available, the next step is to consider which things should go and which should stay. Take for instance your furniture. Ask yourself: do I really need a large cushion set that has too much extra for the family to use? Or that one cabinet you have that has not even been used aside from being a display?
While it remains a debate, minimalism has become a resurging theme in fuller households. Prioritizing the essentials doesn't have to mean donating or selling half of your possessions. The idea is to contribute to a less cluttered homestead while also increasing the level of safety around the house.
Don't Forget the Floors
Kids play far closer to the ground than we do, so it's more likely that they get exposed to a lot of foreign elements in the house. As a parent, always take note of the various cleaning tools you will need for the common floor of the house. For smooth surfaces, use a broom first to collect the dust that might have accumulated, while opting out for mopping the floor if it gets sticky due to spilled liquid or food on the floor.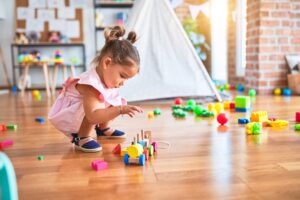 In addition, a vacuum cleaner must come in handy to sweep in large parts of the floor, especially those that are carpeted on. Since they absorb more dirt and other foreign materials than just the bare floor, vacuuming the floor will help the kids be safer by preventing any common illness that may arise.
Minimize danger
Some items that might be completely benign to older people might present a danger to children. These include fragile items such as glassware, cleaning and chemical supplies, tools, and even food items. Remember to store cleaning supplies out of reach or safely away. Aside from organizing them in proper storage, one could also put child-proof kits in the storage areas such as having safety locks and hinges.
—
There you have it: our own take on keeping your cleaning stint more kid-friendly. If you are a parent still struggling to keep up with the cleaning chores, Go2Girls has your back! We have general cleaning services fit for the family, helping keep your home safer for your kids!